One of the special themes for The Sikh magazine is to focus on the prolific Sikh Scholars over the past few centuries. This effort is a step in bringing forth a rejuvenated image and updated mould of a Sikh person. We place on a pedestal the values espoused by these erudite individuals who have framed and informed us of the progress (and at times stagnation) of Sikh society. One such scholar we focus on in this edition is Bhai Vir Singh. 
Bhai Vir Singh was a poet, scholar and a theologian of the Sikh Panth from the early 20th century who played a very important part in the renewal of the Punjabi literary tradition. Bhai Vir Singh's contributions to the Sikh Panth were monumental and hence he received the title of Bhai.
Bhai Saab was born on 5th December 1872 in Amritsar. His father Dr Charan Singh was a  Braj poet, Punjabi prose writer, musicologist, and lexicographer. Bhai Saab did his schooling at Church Mission High School Amritsar and completed his matriculation in 1891 where he stood 1st all over the district. While a few of his friends in the Christian school converted to Christianity due to its allure, Vir Singh's own religious convictions towards Sikhism fortified.  He learned Sikh scriptures as well as Persian, Urdu, and Sanskrit and subsequently found his calling as a writer.
Bhai Vir Singh had the benefit of both the traditional indigenous learning as well as of modern English education. He belonged to a family steeped in religious and artistic interests.
Bhai Vir Singh's family could trace its ancestry as far as back to Diwan Kaura Mal, a Vice Governor (Maharaja Bahadur) of the city of Multan. His grandfather, S.Kahn Singh (1788-1878) spent a great deal of his youth training and learning Sikh lessons in monasteries. Kahn Singh influenced Dr. Charan Singh, who later fathered Bhai Vir Singh, to become an active member of the Sikh community, often producing poetry, music, and writings in hope of restoring the Sikh culture.
Bhai Saab Started his career with his father's friend Wazir Singh and set up a Lithographic press. Later in 1898, he started his own press Vazir Hind Press. In 1899 his first novel Sundari was published which was the first Punjabi novel followed by Bijay Singh, followed by part 1 of Satwant Singh in 1900, part 2 in 1927 and Rana Surat Singh in 1919.  Soon thereafter he turned to shorter poems and lyrics which include Dil Tarang, Tarel Tupke, Lahiran De Har, Matak Hulare, Bijlian De Har and Mere Sayian Jio in 1953. 
In 1955 Bhai Saab received Sahitya Akademi Award for his work Mere Saiyan Jio and was also bestowed with an honorary degree of Oriental Learning by the Punjabi University. His work found its subsequent crowning in 1956 when he was awarded the Padma Bhushan Award.
Through these works, he paved the way for the emergence of Punjabi poetry.
His poems revealed his great love for nature's imagery like the English poet Williams Wordsworth, who was born almost a century before him. Poems like The Prelude, The Solarity Reaper, and Daffodils can be compared with Bhai Vir Singh's work. 
The poem Pritam Choh has a lot of similar evocations of natural imagery as Daffodils by William Wordsworth. Here it is for you to peruse:
ਪ੍ਰੀਤਮ ਛੁਹ
ਤੁਸਾਂ ਤੋੜਿਆ ਅਸੀਂ ਟੁਟ ਪਏ
ਵਿਛੁੜ ਗਏ ਸਾਂ ਡਾਲੋਂ,
ਤੁਸਾਂ ਸੁੰਘ ਸੀਨੇ ਲਾ ਸਟਿਆ
ਵਿਛੁੜ ਗਏ ਤੁਸਾਂ ਨਾਲੋਂ,
ਪੈਰਾਂ ਹੇਠ ਲਿਤਾੜ ਲੰਘਾਊਆਂ
ਕੀਤਾ ਖੰਭੜੀ ਖੰਭੜੀ,
ਪਰ ਸ਼ੁਕਰਾਨਾ 'ਛੁਹ ਤੁਹਾਡੀ' ਦਾ
ਅਜੇ ਨ ਭੁਲਦਾ ਸਾਨੋਂ ।
Pritam Choh
Tussi Toreya Asi Tut Paei
Vicharh Gaye Sa Daloh,
Tussa Sungh Sine La Sityaha
Vicharh Gaye Tussa Naloh ,
Parah Hateh Litarh Lungayai
Keeta Khumbri Khumbri 
Par Shukrana Choh Tuhadi Da
Ajeh Na Bhulda Sanu

Translation 
The Touch of the Beloved
Thou broke me, I was riven apart
segregated from the bough
Thou smelt and cast me away
Put asunder by Thee
Trampled and crushed under Thy feet
Plucked into bits and pieces
Yet grateful for experiencing Thy touch
Which remains unforgettable 
(translated by Dr Rupinder Kaur )
Bhai Vir Singh's aim in life was to bring to light the Sikh glory which seemed to be fading away after the taking over of the English. Another bone of contention was the perception of Sikhism and its uniqueness by the two major religions practised in India – Hinduism and Islam, where the practices had evolved to be increasingly ritualistic. Sikhs seemed rather iconoclastic in comparison.
Bhai Saab wanted to uplift the Sikh confidence and reinstate the Sikh history's original glory. His poems, short stories, and plays are full of instances that show the exact Sikh values our Gurus wished for us to exhibit. Reading his work reveals this impeccable value system penned down so intricately.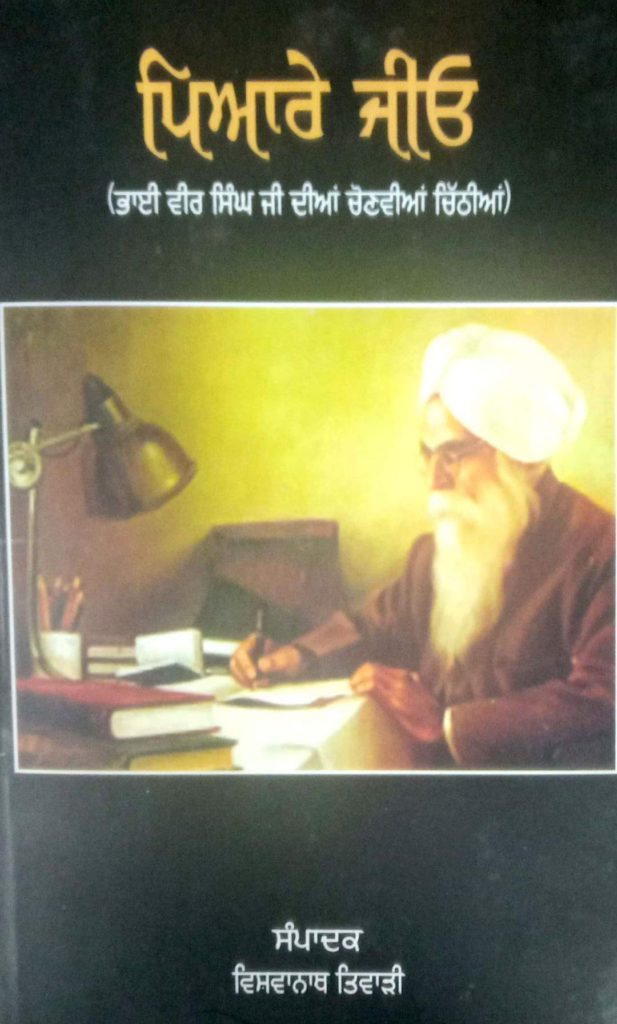 His efforts to rejuvenate Punjabi literature were remarkable, with even some of his personal letters written to family and friends being worthy of literary accolades. His belief in the Almighty was so deep that most of his work was resultantly spiritually inclined. 'Pyare Jeeo' is a collection of such letters written around 1911 which were published later. These letters are full of instances that recognise the vibrancy of the Almighty, encouraging the readers to acknowledge the presence of the Supreme Being. 
In these letters, stress is laid upon accepting the trials and tribulations in your life and contemplating or meditating Naam (Divine substance).
An audiobook of these letters is available on Youtube.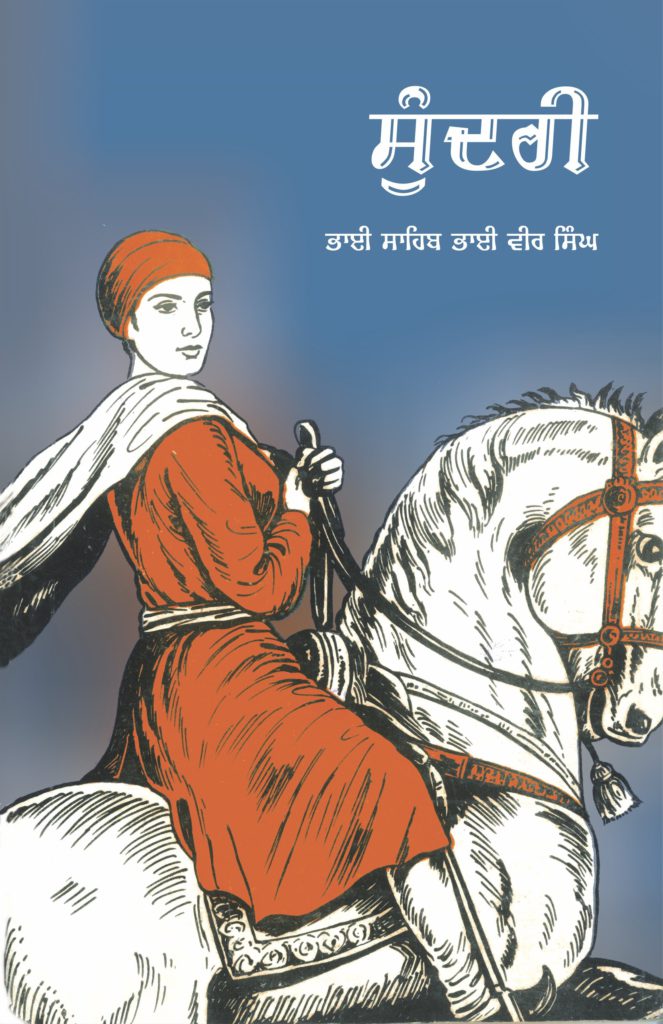 Bhai Vir Singh's writing engages you deeply as exemplified in the short story 'Pyare Da Pyara'. This is a love story about a young girl with the Creator and His Creations. Readers get completely mesmerized and are able to feel like the protagonist herself. The concept of Atma (Spirit), Parmatma (God), nature are central themes and one finds many references from Gurbani.
'Sundari' was another great historical novel from the works of Bhai Vir Singh. The character Sundari in the story of a young recently married Hindu girl who is forcibly abducted by the Mughals and saved by her Sikh brother. Sundari joins the roving band of Sikh and fights alongside with valour and bravery. 
Bhai Vir Singh's purpose through this was to awaken the Sikh masses and remind them of their values as exemplified by the Gurus. The finer points of Sikhism and Sikh character are vividly sketched out.  In building the ideal Sikh ethos he clearly delineates some characteristics – a Sikh makes use of the Kirpan for defensive purposes only or to stand-up to tyrannical injustices and suppression from those abusing their power.  A Sikh does not helplessly submit to evil designs of the oppressors but actively struggles for his self-respect, liberty and faith. Even in situations where Sikhs dominate they never suppress their oppressors or disrespected the captured but instead showed a high sense of charity. This forgiveness in their dealing with the enemy is of a high character and faith which the Sikh Guru taught them.
The touchstone philosophy of Sikhism brought about with the teachings of Guru Nanak was fully explained through extension by Bhai Ji.
Naam Japna           ———     A relationship with GOD.
Wand Chakhna       ———     A relationship with Society.
Kirat Karni             ———     A relationship with your FAMILY.
The Sikh Panth suffered a great loss when Bhai passed away on 10th June 1957 in Amritsar.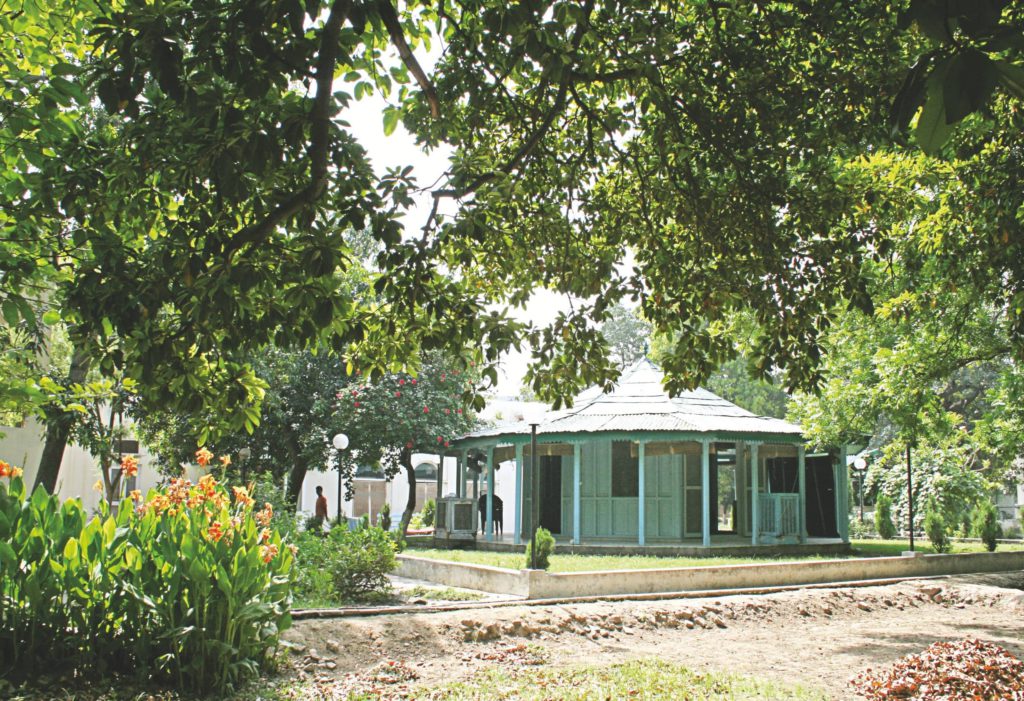 A peek at the prevailing state of our society shows that every generation is increasingly absorbed in digital technology and it's innovations, and Almighty's nature has been left with a very limited appreciation or attention. Thus it is recommended to read the works of Bhai Vir Singh awaken our inner-self and allow ourselves to feel the positive impact of nature. Additionally, reading stories like 'Sundari' adds to the opportunity of learning about the true Sikh values beyond just the Janam Sakhis which are sprinkled miraculous incidents about our Gurus (an idea they, themselves had refrained from encouraging all through their lives). Bhai Vir Singh is a source of inspiration and so much more, a literary legend to be read for years to come.